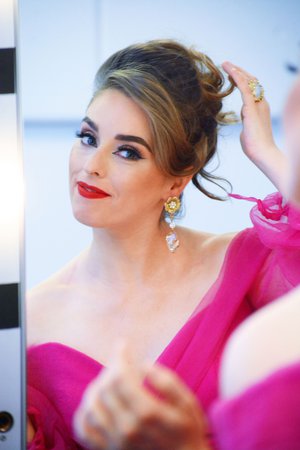 Belgian soprano, Lisa Mostin's specialisation in the coloratura repertoire, opened the doors to an international career. As The Queen of The Night in Mozart's DIE ZAUBERFLÖTE, she's been invited to the Deutsche Oper Berlin, The Dutch National Opera Amsterdam, Opéra Royal du Château de Versailles, Opéra Grand Avignon, as Olympia in Les Contes d'Hoffmann at The Staatsoper Stuttgart and as Zerbinetta at Opera Ballet Vlaanderen, Theater Bremen and Theater Magdeburg. Other signature roles are Konstanze in DIE ENTFÜHRUNG AUS DEM SERAIL, Marie in LA FILLE DU RÉGIMENT, Gilda in RIGOLETTO, Violetta in LA TRAVIATA and Lucia in LUCIA DI LAMMERMOOR. She's also proven herself to be a reliable performer in the contemporary opera repertoire with roles like Kristine in Boesmans' JULIE, Franziska in Georg Kreisler's DAS AQUARIUM and La Compagna in Luigi Nono's INOLLERANZA. Lisa had the pleasure to work with conductors like Adam Fischer, Benjamin Bayle, Koen Kessels, Johannes Harneit, Michele Mariotti, Hervé Niquet, Alejo Pérez, Marc Piollet, Donald Runnicles, Roberto Rizzi-Brignoli as well as the esteemed directors; David Alden, Guy Joosten, Christoph Marthaler, Orpha Phelan, Graham Vick en Rolando Villazón. As Dede in Leonard Bernstein's A QUIET PLACE the Opera Zuid company won 'best production of the year 2018' in The Netherlands. Lisa is a finalist of the Rotary Competition.
She was invited to sing to honour the Oscar winning actress Vanessa Redgrave for her 80th birthday during the Ulysses Theatre Festival in Croatia. She appeared as the opera singer in the movie THE BAREFOOT EMPEROR along Geraldine Chaplin and Udo Kier which premiered on the Toronto Film Festival.
Lisa studied at the conservatory of Maastricht with Axel Everaert and specialised in belcanto with Margherita Rinaldi in Florence.
Through the years he's been coached by renowned singers like June Anderson, Barbara Bonney, Ileana Cotrubas, Cecilia Gasdia, Sylvia Geszty, Bonaldo Giaiotti, Sumi Jo, Tom Krause, Nelly Miricioiù and Valerie Sorel.
In April 2021, a DVD + CD box appeared under the label of the Château de Versailles Spectacles on which she performs the role of The Queen of the Night in a French edition of THE MAGIC FLUTE, conducted by Hervé Niquet and
Le Concert Spirituel. With a grant of the Flemish government, Lisa wrote her first movie script and is developing her first opera movie together with creative director Bjorn Tagemose for Universal, featuring Vanessa Redgrave.
Stand 2023